Ideas
Successfully Branded Financial Services
Now more than ever, branding matters in the financial services industry. Now that baby boomers having initiated a massive wealth transfer to millennials, financial institutions are scrambling to redefine relationship banking for a new generation of social media-savvy customers. Many institutions have chosen to compete on price alone, locking themselves into a race to the bottom on rates and fees that is turning many smaller institutions into commodities. Fortunately, there is another way for branded financial services.
I firmly believe that financial companies have much more to stand on than pricing and special offers. I spent nearly a decade in the financial trenches as a community bank marketing director, and consulted with many other financial institutions across the U.S along the way. This gave me a unique insight into the role of sound marketing strategies for banks and financial institutions, as well as the impact of successful financial brands.
This realization is what led me to join WATSON CREATIVE as executive vice president. The design-led business consultancy firm has extensive experience not only in branded financial services but also across a wide range of markets, including sports marketing and global brands such as Nike, Electronic Arts, Apple, Marvel and Audi. WATSON CREATIVE has proven time and again that diversity breeds creativity: through its work with financial clients such as Citigroup, Lewis & Clark Bank, TransUnion and Consolidated Community Credit Union, WC has a proven track record of disruptive innovation.
This is the tried and true process WATSON CREATIVE follows:
Step One: Establish Your Strategy
Will you become a pillar of your local community or a branchless disruptor in the digital landscape? What are the stories that can make you stand out from the competition and decommodify your services? Unless you are just getting started in the industry, the answer lies in your existing corporate culture and values.
Building a successful brand identity means weaving your brand into the very fabric of your business. Chances are, there is already a lot to leverage and harvest in your financial institution as it is.
The strategic planning phase focuses on these values so they can be refined and enhanced. Depending on the level of sophistication of your existing branded financial services, strategic discovery will involve either repositioning or reinforcing your existing identity.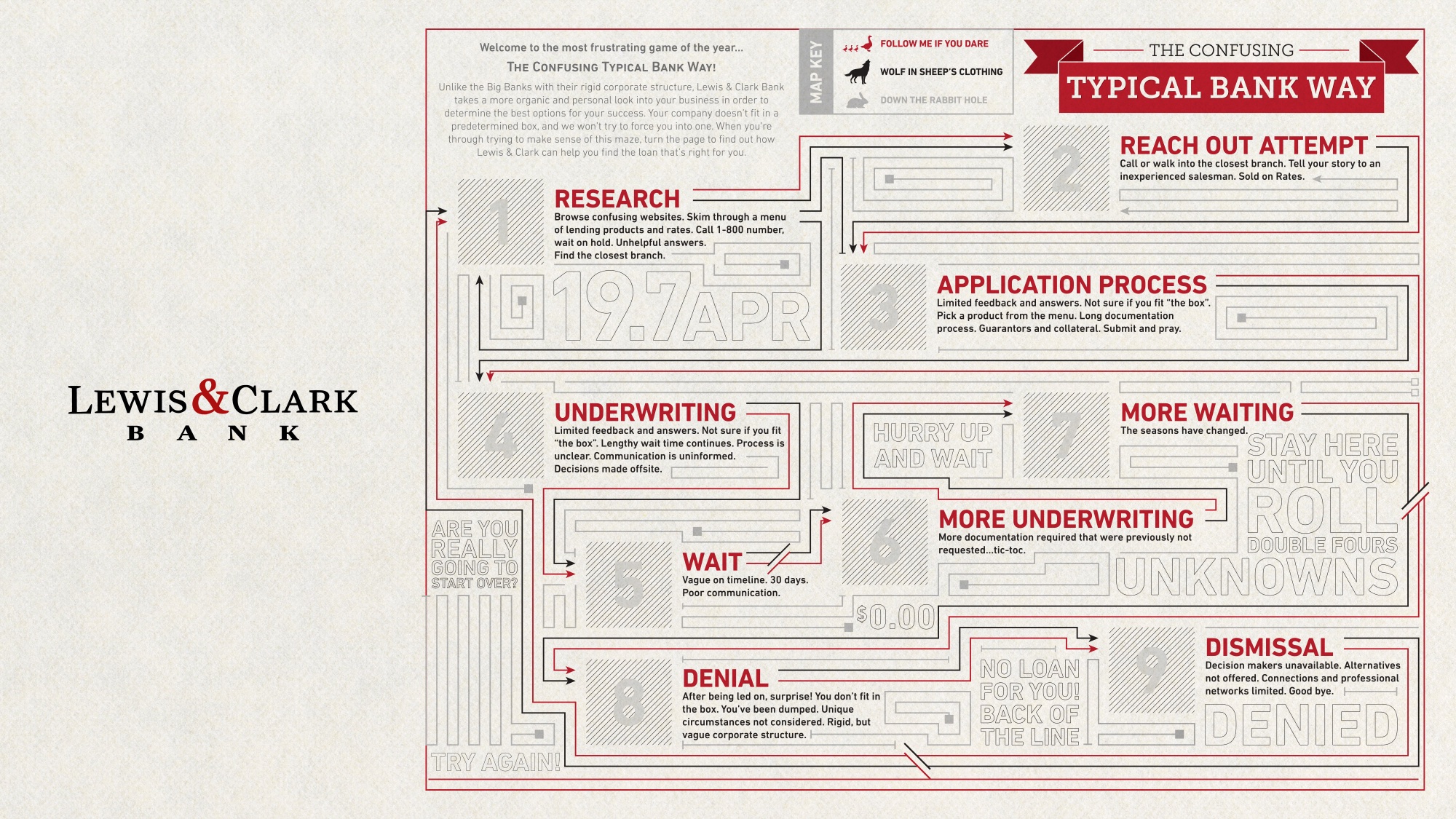 Step Two: Build Your Creative Toolbox
Content is king. Your brand stories, the way in which you communicate your brand's identity and values, are your currency. Strong stories will attract customers to your financial brand, engage them, and ultimately capture their return business.
At this stage, WATSON CREATIVE provides marketing teams with the confidence to make their financial brands flourish in the marketplace in a way that is consistent and authentic. Together with our clients, we build a toolbox to communicate their message and generate creative assets that can be used across all media.
Step Three: Rally the Tribe
In order for your identity to be successful, it must become a rallying cry and a culture.
Your employees and your core consumers constitute your tribe. Now that you've articulated your identity and created a coherent, authentic framework to communicate it, it's time to rally the troops. Empower your employees to become your brand ambassadors, and give your customers the tools to share their enthusiasm for your brand. When choosing new employees, your brand identity should guide you: pick people with strong integrity and high social intelligence.
WATSON CREATIVE draws from its extensive experience managing fan loyalty programs for various NFL teams in order to create exciting, attention-grabbing tools and messages that empower its clients' most enthusiastic consumers to tell their stories to the marketplace.
Step Four: Get the Message Out
Marketing, at its most fundamental, is your brand telling its story to the marketplace.
Through stories that tell your brand's unique values in an emotionally compelling manner, your brand will carve its niche in the marketplace and resonate with potential buyers. Effective marketing will connect with potential clients whose values and needs align with your brand.
There are many channels across which you can reach out to consumers, each with their unique requirements and advantages. At WATSON CREATIVE, we have extensive experience across channels and industries. Whether we craft marketing campaigns across the web, as traditional advertising, as experiential campaign or as a combination of it all, we make sure our clients hit their mark, brand first.
Step Five: Execute
With your brand firmly established throughout your company and across the marketplace, it's important to infuse your brand's identity in every aspect of your business moving forward. Applying your brand's guidelines means approaching each piece of collateral with thoughtful care.
Even the way your customers turn over an envelope, open it, pull out the documents, and unfold them needs to be a journey that conveys your brand's unique values. If it's not, you have missed an opportunity.
The Value of a Strong Brand
Whether your business is B2B or B2C, your brand should represent at least 40% of your overall equity. If not, you're missing an opportunity to leverage one of the best, timeless assets you'll ever have. Financial branding is not about the dollars you put in promotion; rather, it's the preference a current or future customer feels towards your services. That identity needs to drive perception across all your business activities, from the business plan to the handshake of your customer representatives.
This reality is why WATSON CREATIVE's motto is "Lead by Design." We've successfully built or revitalized brands across countless industries ranging from sports teams to credit unions, and from Fortune 500 to startups. The above steps, when applied sincerely and followed through, are an infallible recipe for leadership in the marketplace.
Whether you're a local credit union or an investment strategy firm, try leading with your brand as outlined in this article. Or better yet, give WATSON CREATIVE a call: we'll walk through it together. Our Portland office can be reached at 800-280-3057. You can also send us a message at any time to Hello@watsoncreative.com.
Successfully Branded Financial Services
by Watson Creative