Don't compete.
Light up the world.
Art. Heart. Math.
We see patterns. We listen to feedback. We check our egos. We fail, and fail better. This is what it means to be a research-based creative studio: study, plan, build, launch, test. Assess. Revise. Repeat.
Never stop.
WE WORK WITH
Brands that move us.
Umpqua Bank
Kaiser Permanente
San Francisco 49ers
Emerick Architects
Lifespace
Washington County
Chown Hardware
Intel
Oregon State University
Nike
Portland Timbers
InFocus
New York Yankees
San Jose State University
R&H Construction
People talk
Reputation is everything.
"Watson Creative brings high level strategy and creative thinking to every project. Their commitment to authentic, inspiring experiences with creative excellence is what makes them stand out as an agency that delivers on their promise."
Jana Panfilio
NIKE Sustainable Innovation
"InFocus started working with WATSON a little over four years ago. They have been a key partner to re-establish our brand are one of the few creative partners trusted by both my CEO and myself. Matt and his team have listened, built strategies and then help us project our brand aspiration. Their work has been a powerful signal showing who we have become to our end users, channel partners and more importantly to our global team."
"We know who we are and more importantly who we want to be," said Loren Shaw, InFocus' marketing director. "We don't need an outside group to tell us that. What Matt and his team have done is listen, then help us project our brand aspiration. That has been a great and powerful signal showing who we have become to our end users, channel partners."
Loren Shaw
Marketing Director InFocus
"It is not an easy task positioning your brand as a generalist firm, but at Scott | Edwards Architecture our diversity and unique culture are extremely important to us. In working with Watson Creative to nail down our positioning and strategy, we got a partner that was passionate about the process, really listened to what we had to say, were responsive, and brought great expertise and insights to the conversation. They were great to work with, and in the end delivered a thoughtful solution that bolsters our culture and our brand."
James Lee
Marketing Director Scott Edwards Architecture
Watson's executive leadership.
VP of Operations
Michelle Blinkhorn
Backed by two decades of agency and client-side experience, Michelle oversees operations at Watson—optimizing the processes and tools that support the people who make Watson Creative. Launching her career as a writer and brand strategist, Michelle was quickly drawn to the connection points between research, strategy, and execution, with specific interest in how brand character is expressed across products, services, and marketing communications. She has driven cross-disciplinary design and marketing solutions for world class brands including: SirusXM, NIKE, Samsung, Intel, Wacom, Logitech, Graco, Rubbermaid, Precor, Memorex, TDK, Whirlpool, Microsoft, and Johnson & Johnson. As a fourth-generation Oregonian, Michelle likes to spend as much time as possible outside skiing, gardening and hiking with her dogs.
MISC.
Favorite Authors: Toni Morrison, John Steinbeck, Philip Roth, Norman Rush, JD Salinger, Ernest Hemingway. Favorite Bands: Tribe Called Quest, Everything But The Girl, Erykah Badu, Dave Brubeck, Morcheeba, Nina Simone.
VP of Strategy
Greg Needham
Greg got his start in design when he first touched a computer in 1985. He majored in design and history, then worked as a designer, art director, and photographer in the Portland area. He ran his own agency in South Florida in 2006, where he worked with both local and national clients, including MTV and the Waldorf Astoria and Hyatt hotel chains. He was Creative Director for MOSAK Advertising & Insights in Austin, Texas, working with a wide range of clients including the Texas Parks & Wildlife Department and 3M, helping create award winning local and national campaigns. Greg joined Watson Creative in 2015, where he heads up the creative department and makes the connection between strategy and the creative process.
MISC.
First: make the work better, always make it better. Second: coffee, always coffee. Third: travel in the direction of your fears.
CEO + Executive Creative Director
Matt Watson
Creative lead. Business strategist. Sneakerhead. Matt cut his teeth as a designer at Lippincott NYC before joining NIKE as a senior member of its creative team for over a decade. After leaving Nike to take care of his father who was dying of cancer, Matt taught courses at local universities and freelanced from his drafty attic in North Portland. Today, Watson Creative is a multidisciplinary creative studio that shapes businesses from the inside out. Leading a team of researchers, strategists, creatives, developers, and storytellers, Matt has focused the studio's diverse capabilities on a singular goal: to be counted among the best creative studios on the West Coast.
MISC.
Yells at: Oregon State Beavers. All-time, most favorite: Original Air Max 90. Magic superpower: Observation.

Senior Account Director
Todd Jetton
"Complex problems, compelling experiences, and elegant, creative solutions – that's what get's me out of bed in the mornings (…that, and, a bike ride before work!)."
While spending 20+ years working with some of the most intense, brilliant, and creative business owners in Portland, Oregon, Todd identified that the key to a successful agency model is the right balance of pushing for great work and inspiring great teams.
With a lengthy background in design, business, digital, print, product, service, software, and retail, Todd has worked with some of the top creative agencies on the west coast, including Second Story, Opus, Ziba Design, and now Watson Creative.
In 2015, Todd became the Director of Partnerships for a parking app startup, Citifyd, and helped radically expand the adoption of their parking and payment platform by securing contracts with the Portland Timbers, the Portland Trailblazers, the Pepsi Center, the Denver Nuggets, and the Denver Avalanche.
With a multi-disciplinary approach, Todd has successfully led numerous strategic creative programs for Intel, Dimliar Trucks North America, Alaska Airlines, Outrigger Hotels and Resorts, SiriusXM, Logitech, Proctor & Gamble, Costco, Citibank, and Nike (to name a few), and has partnered with several growing creative consultancies to structure deal flow and nurture strategic partnerships.
A consultant at heart, his infectious passion for business and entrepreneurial grit is core to his competencies. Most recently, Todd has focused on creating cultures that can meet the high demand of today's innovation and design challenges.
MISC.
Determined. Positive. A husband, father of two, and cyclocross enthusiast. "Search for peace and maintain it."
Associate Creative Director
Ian Miller
"I create systems of meaning designed to win hearts and minds. I value inspiring and delivering work that matters. I lead teams of writers, designers, strategists, and developers to craft customer-centric business solutions that are actionable and scalable."
Making something new—something that matters—takes attention, guts, resiliency, and a regenerative sense of purpose and wonder. This is true for people. And it's true for brands. Ian's branding, UX, and advertising experience covers tech, professional services, higher education, product, and sport. He likes working on anything that makes the world a more curious place.
MISC.
Words to live by. "We die. That may be the meaning of life. But we do language. That may be the measure of our lives." – Toni Morrison
Senior Project Manager
Wendy Slocum
17+ years of marketing program and project management experience working with business accelerator entrepreneurial ventures and client-side organizations with Adidas, Mentor Graphics, Outward Bound, and Daimler Trucks North America. Driven by the desire to unpack what motivates and inspires people, Wendy is passionate about delivering engaging experiences. She is deeply committed to understanding an organization's definition of success and collaborating with dynamic teams to exceed expectations. She believes everyone has a unique story to tell and thrives on creating opportunities for those to be shared. Outside the studio, Wendy loves to travel and is always up for an adventure. Diving in Fiji. Spelunking in New Zealand. Cliff jumping in Cinque Terre. Hiking Colorado's fourteeners. Combing the beaches of Bali. If it's out there, Wendy wants to experience it.
MISC.
Running. Tennis. Cycling. Hashtag inscribed on the inseams of Wendy's heart: #dontdiewondering.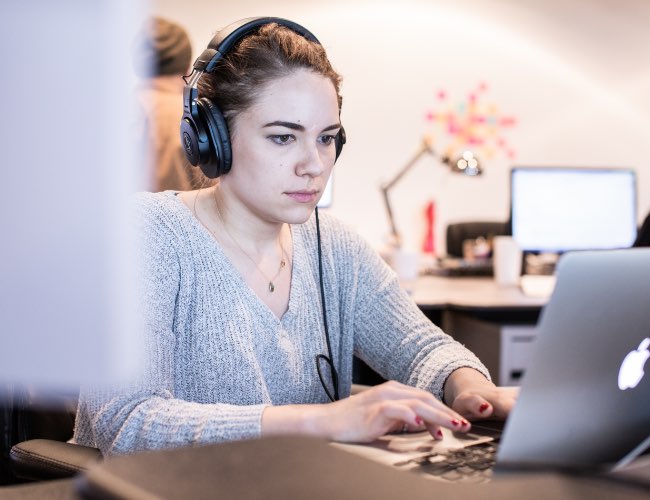 Careers
Make it beautiful,
make it work.
Our sights are set on strategy, design, and storytelling. From lifestyle brands to tech, startups to venture capitalists, local businesses to professional sports teams. We build from the ground up. You dig?
Shovel, pickaxe, dynamite
There's talent. There's a little luck. And there's the cornerstone of great partnerships with incredible clients.
We believe great work happens when great people work together. That's why we're always looking for the next great person.