InFocus is the inventor of the digital projector and produced some of the many first types of display and projection tools in the industry including the first DLP projector and first all-in-one interactive digital whiteboard with touch screen technology and videoconferencing. Since our early beginnings, InFocus has partnered with Watson Creative to develop brand and marketing materials across every aspect of InFocus ' s business and subsidiaries through photography, print, digital, and social media channels.
Background
We go way back with InFocus. WAY back. InFocus was Watson's first ever client. After seven years together, they're also our longest-standing client. From the start of our work with this product-based brand, their objective was clear: to be the best in the competitive projector and display market. In other words, we had to make projectors and touch screen displays cool.
Strategy
The key to success with InFocus was to reach diverse audiences with distinctive yet consistent branding. Our target audiences were K-12 classrooms, medical, and corporate offices. With thoughtful selection of imagery and copy, we were able to adjust design and messaging to appeal to each demographic, while simultaneously elevating the brand with striking design.
"Working with InFocus over the past seven years has been an incredible experience. Our work with them in the early days shaped who we are as an agency today."
MATT WATSON, CREATIVE DIRECTOR + PRESIDENT / WATSON CREATIVE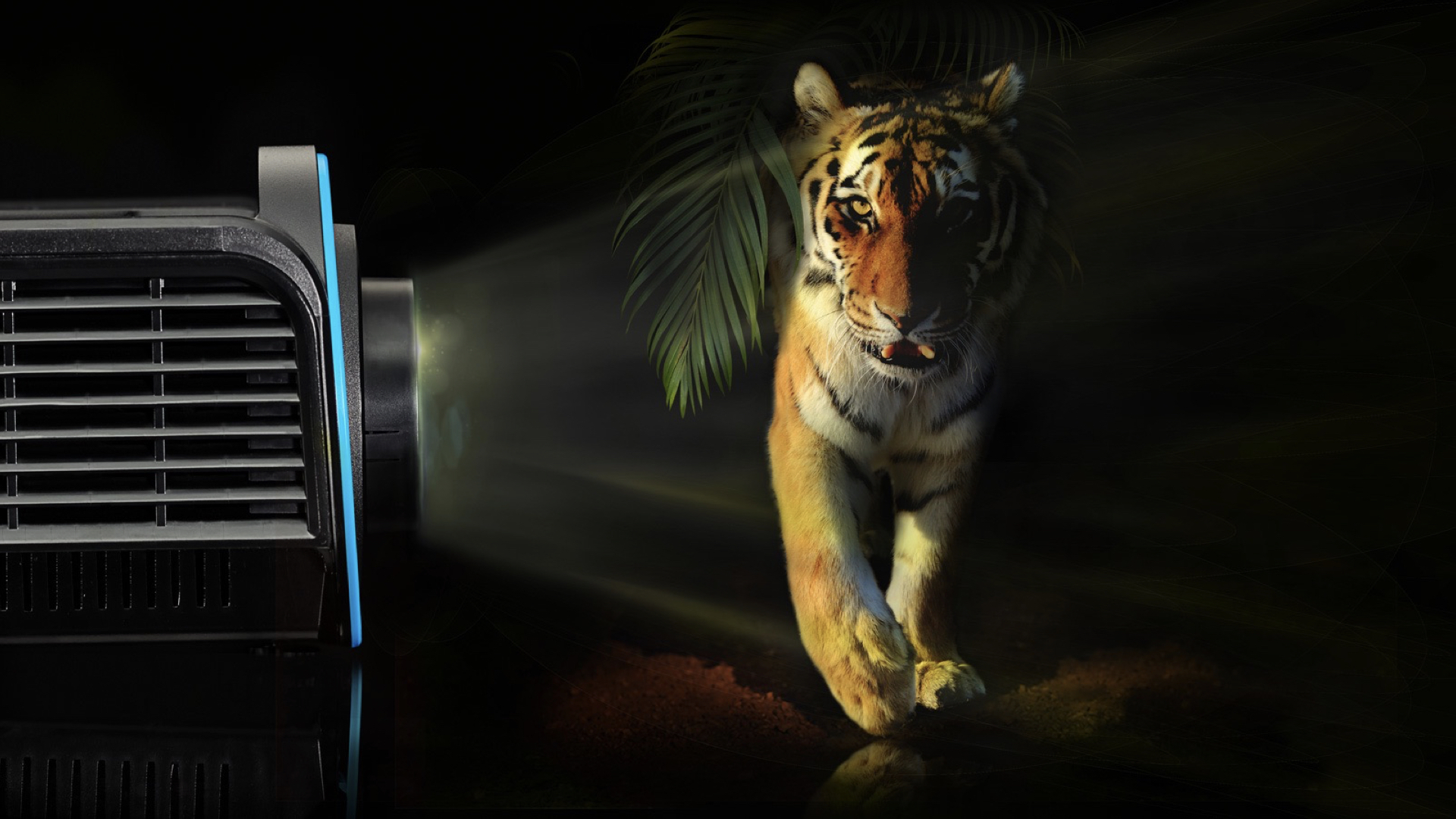 How do you show movement using still graphics? Using a winning combination of creative prowess and Photoshop manipulation, the Watson team designed dynamic imagery to demonstrate the capabilities of InFocus projectors. Each design targeted the varied demographics of InFocus and stood out in a sea of competitors. Really, if a tiger coming out of a projector isn 't cool then we don 't know what is.

"Watson has been a key partner to re-establish our brand as one of the few creative partners trusted by both my CEO and myself. Matt and his team have listened, built strategies and then helped us project our brand aspiration. Their work has been a powerful signal showing who we have become to our end users, channel partners and more importantly to our global team."
LOREN SHAW, FORMER VICE PRESIDENT / INFOCUS
Creating wonder through animation
After using still imagery to demonstrate motion, InFocus was ready to take things to the next level. Watson was tasked with highlighting Quantum Color Engine, the solid state color technology for InFocus projectors. InFocus wanted to show this incredible technology visually, without getting bogged down with details.
Watson began concepting a video that would show the magic of the Quantum Color Engine and the process in which information is transferred through a projector. Animated jellyfish popping out of a project lens? Very cool.
Developing a campaign
InFocus turned to Watson for ongoing marketing to promote the launch of the new Mondopad and Jtouch, interactive touch displays for the office and the classroom. Watson's creative direction for the campaign incorporated clean and sleek design to campaign landing pages with pristine photography throughout. While it was a push beyond their comfort zone, the result was a stunning example of elevating their brand.
Designing cohesive messages
Like all of our work with InFocus, we had a variety of demographics to target for this campaign. Watson ensured both design and messaging on the campaign pages appealed to each audience, yet maintained cohesive branding throughout. Dark, sleek, and modern for Modopad and corporate audiences; bright, bold, and engaging for Jtouch and K-12 classrooms. The result? Literal and visual messaging that resonated with both audiences.