Ideas
Watson Creative Lands a Spot in the Clutch 2021 Leader Award for the Top B2B Companies in Oregon
Good marketing entails strategic branding tailored to your brand's core message and identity. Branding is paramount to marketing as it highlights your organization's character, allowing customers to perceive your brand as personable. However, branding strategies can sometimes feel repetitive and saturated, which is why Watson Creative is at your service in crafting a unique digital strategy to stand apart.
Since 2013, Watson Creative has been paving the way to branding excellence for many clients. Our specialization in design and digital storytelling creates opportunities for discovery along the way as we work toward your vision. We help you help others and do what matters.
In light of our dedication to supporting our partners in achieving brand individuality, we've been named as a leading 2021 B2B provider in Oregon by Clutch.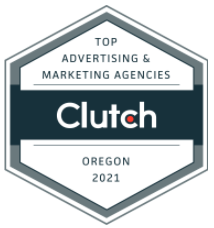 If you didn't already know, Clutch is a B2B ratings and review agency and is the leader in connecting global service providers with corporate buyers from around the world. The ratings and reviews platform publishes the most extensive and referenced client reviews in the B2B services market. The selection methodology for being named a Clutch Leader takes into account a number of factors, including the types of services the company offers, its array of advanced technologies, its awards, and its brand reputation. Clutch also factors in the number, quality, and recency of companies' client reviews. 
With that in mind, we're honored to be the recipient of this award. More importantly, the whole Watson Creative team would like to express our gratitude to our wonderful clients for their unwavering support.
Thanks to you, we currently have a total rating of five out of five stars across seven reviews on Clutch!
Take a look at some of the kind words you've given us:
"I'm really impressed with the quality of people there overall."
"Their spirit to do it right and their passion for branding stood out.
We might be busy, but never busy to connect. Get in touch with us to get started on your brand transformation.
Watson Creative Lands a Spot in the Clutch 2021 Leader Award for the Top B2B Companies in Oregon
by Watson Creative